" 3Ten ( triten ) Measure, the Legend of Joey Bee", plots planetary mean distances on an expanding
golden ratio grid, with "lixcaliber", the Mother of all scales, found embedded...now emerging,
from the heart of the Great Pyramid through slope angle, 5E.


Walking you through 3Ten is our next trek. But first.....

Circling the Square

04 10 20

I've been inside the chamber geometry nearly four decades now, with lix related webpages produced,
maintained and upgraded continuously since 1996. On each return, more is revealed. I knew the module,
73.728 lix, found in 2008, would one day lead me out of the chambers and, in one day, it did.


Most of the focus these last number of years was assembling my sister site: brainelevator.org
merging the upper and middle chambers into one. Last week the work took a dramatic turn when
i noticed three squared dimensions of the "Hi Phive" chamber add up to the Pyramid base perimeter.

Join me "outside the box", for a brief thousand pace stroll under a clear blue sky around the most
well known and least understood construction project on Planet Earth:


Every square describes two circles. One touches the sides, the other, the corners.
The ratio between the two is the square root of 2.

The third circle here, in between the two, is the sum of the four sides of the base.
Its radius is the height of the Great Pyramid...in lix units.


If your interest is piqued, jump on the brainelevator for an in depth application of lix geometryvia the upper and middle chambers of the Great Pyramid at Gizeh. 3Ten measure


phi and pi and the slope angle(s)127.32200375 127.32395447

pyrameter triangle(s)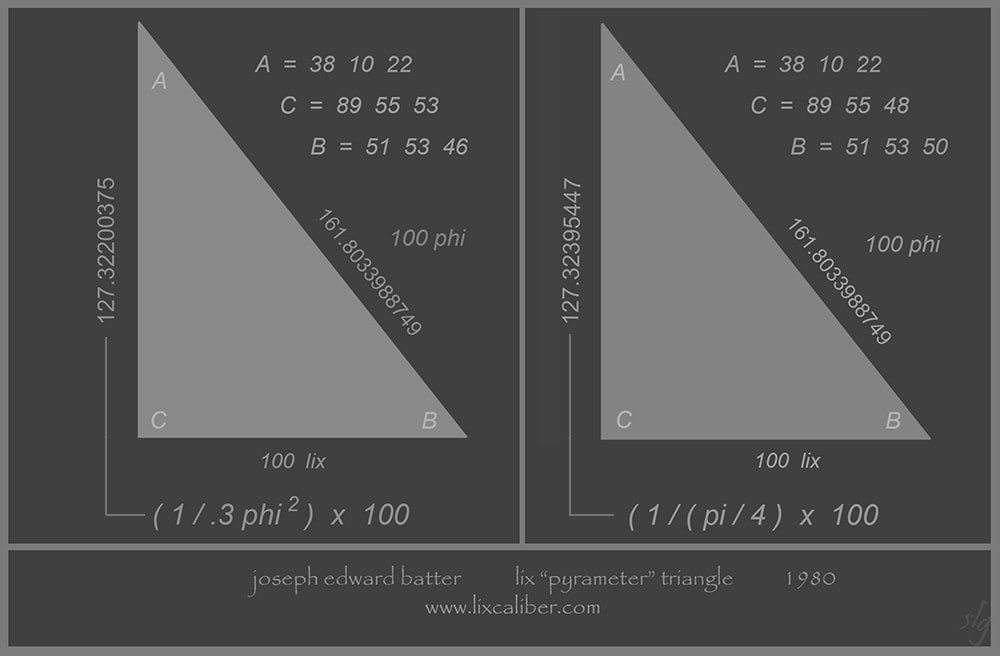 "something's afoot.....

The rediscoveries of the lix unit, the scale lixcaliber, the dimensions of Hi Phive, Point Phive and the module,
73.728 lix, are the results of nearly two lifetimes of attention to detail. Much is owed to the Master Surveyors
who marked the lines before our time and even more to Pythagoras and his teachers.

A paper structure of equal volume could be built beside the Great Pyramid from all the speculative works
to reference its' grande design. No esoteric meaning is ascribed by me to basic ratios so elegant, so profound
so legible, any interpretation i might provide as an artist would be woefully inadequate and i am by no
measure a mathematician, archaeologist, engineer or prehistorian to offer such context.

However, bairn of pi and phi, "lix" dimensions are eternal, here long before the first Myths were recorded,
here well after the last ones are gone to dust. In the face of resplendent measurement codes and ratios,
extensive reflection will achieve far greater insights than intensive conjecture ever has.

Embedded in the "stone hearth of phive" resides the universal scale lixcaliber, not as Arthurian weapon,
tool for Passion, War and Division but as Arthurian ideal, instrument of Unity, Reason and Understanding.

In another age people were inspired enough to strive together for a generation, to dress and seal their knowledge
of "Earth Measure" inside a crystalline mountain 481.101201415 lix high. They clearly intended rediscovery.
Whether by this era remains to be seen."

04 13 2008
slg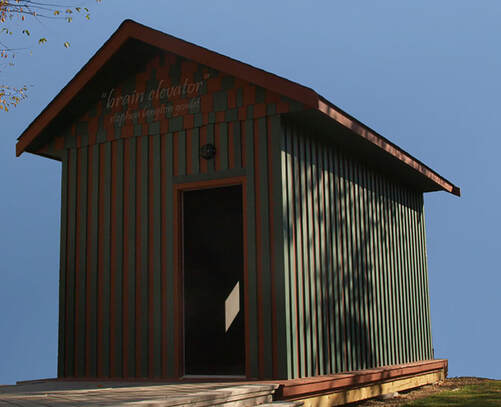 meanwhile, if you need a lift, here's an updated application of lix geometry,
an artifact, for your perusal, rediscovered within the Great Pyramid at Gizeh:
brainelevator
contact